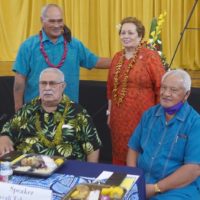 Governor Lemanu Peleti Mauga has convened the 2022 Constiutional Convention to be held August 29th to September 2nd.
In an executive order issued before he departed on Monday, the Governor said, "Delegates to the convention shall consider, discuss, debate and vote on amendments to the Revised Constitution of American Samoa of 1967 or a revised draft constitution presented by the Constitutional Review Committee."
If the Convention approves any constitutional amendments by a simple majority vote, the amendments will be on the ballot in the November general elections.
The Constitutional Review Committee, which wrapped up its work last Friday, approved 8 amendments which will be submitted to the ConCon.
There's $1.3 million in the Fiscal Year 2022 budget to fund the ConCon and the work of the Constitutional Review Committee. The last Constitutional Convention was held in 2010.