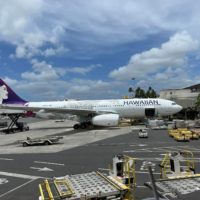 Travelers looking for seats on Hawaiian Airlines from now up to July are not having any success.
According to Local Station Manager Tuli Fruean the weekly flights are booked up to July 15th.
He was asked about the possibility of the airline adding an additional flight this summer.
Play Audio
Hawaiian Airlines Local Station Manager, Tuli Fruean.