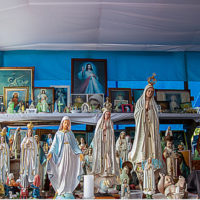 The Catholic Church in Samoa is taking seriously, visions of Christ and a statue of Mother Mary weeping an oil-like substance as relayed through a 14-year-old young man of Le'auva'a – uta.
Samoa Observer reports Archbishop Alapati Lui Mataeliga has written to all Catholics in Samoa urging them to heed the message and to start doing the "work" described by Jon Bosco Va'atausili as being from Jesus Christ himself.
The letter was read to Catholic parishes last Sunday.
"I firmly believe this is a blessing from Jesus and his Mother pertaining to healing of the pandemic as you would understand," the Archbishop wrote in Samoan.
"Not only for our physical well being, but also for the healing of our spirits so that we may recapture our reliance on the Lord, because the sun of our faith is setting due to the pandemic and the poverty that we are feeling from it."
He said, these blessings also come with responsibilities and it is his duty as the Archbishop to share Jon Bosco's visions, as the 14-year-old has been the vessel for Mother Mary, whose tears are seen in the many statues that were brought to his home by families who heard of his visions.
According to the Archbishop, Jon Bosco informed him of a message from Mother Mary to be told the country, and that it was up to the church to do the work required.
He wrote that the work had to begin today, Saturday May 14th, from 6am to 3pm and priests were to conduct Mass and pray the rosary until 3pm around the country.
Three months after the first visitation, the oil-like liquid substance continues to seep from the statue.
Word about the weeping statues has traveled far and wide among the Catholic faithful, leading to families, bringing their own statues of Mary and Jesus to the teenager's home.
They all leave the Va'atausili home with vials of oil taken from the weeping Mother Mary.
Photo: Samoa Observer