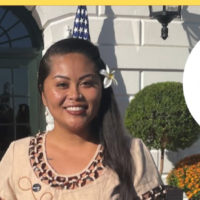 There's not enough devices for every student to fully participate in online classes.
That was the straightforward assessment of, high school teacher, Sabrina Suluai-Mahuka in a webinar about teaching in a pandemic.
The former Teacher of the Year discussed the challenges teachers faced in the classroom with having to learn new technology and added duties due to the pandemic, coupled with not having enough devices for students.
She said, even before the pandemic teachers were constantly sacrificing their paychecks to buy school supplies and resources.
The added responsibilities of hybrid learning has resulted in teacher burnout and right now there's a teacher shortage, she observed.
Suluai-Mahuka pointed out that problems with the bidding of electronic devices for the schools, led to long delays in delivery of equipment for virtual learning. For her own classroom, she was given about 13 laptops at the beginning and so only a select number of students had access to the laptops or having to share them as a group.
She said, some classes have 35 to 40 students, therefore 13 laptops meant that the whole class will not be online at the same time.
Play Audio
The webinar was organized by the University Center for Excellence in Developmental Disabilities and Act As One Organization to celebrate teachers.