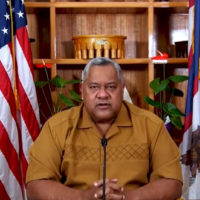 In his remarks at a leadership training for the Federal Asian Pacific American Council, Governor Lemanu Peleti Mauga noted that there should be more participation by Native Hawaiians and Pacific Islanders in the organization.
FAPAC is a non-profit, non-partisan, organization representing the civilian and military Asian Pacific American (APA) employees in the Federal and District of Columbia governments.
He was invited to keynote the annual National Leadership Training of FAPAC, which was held virtually due to COVID.
Play Audio