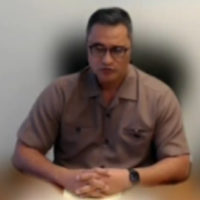 Lt. Governor Talauega Eleasalo Ale has pledged the administration's commitment to act on the mortality report that was recently issued by LBJ Hospital, which shows an alarming rate of obesity causing early death in the territory's under 50 population.
He called the report alarming and one that needs the attention and action of the whole territory.
Play Audio
The report, which looked at the health status of the COVID-19 related deaths was compiled with the help of Dr. John Hancock, an epidemiologist from the US Centers for Disease Control and Prevention.
It showed that the under 50 population of American Samoa are more likely to be obese than the older population.
The Body Mass Index, which determines ideal weight based on height, shows that the majority of those who died of COVID-related causes were in the extremely obese category.
* Normal BMI is 18.5 to 24.9
* Overweight js 25-29.9
* Obese is 30 to 34.9 BMI and
* Extremely obese is over 35 BMI.
The report showed that those under 50 had the highest BMI of 52.