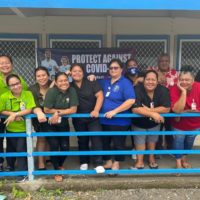 As of January 17, 2022, a total of 38,218 persons in American Samoa or 76.9% are fully vaccinated while 41,147 or 82.8% received at least one dose.
By age group, the majority have surpassed 90% fully vaccinated coverage, except for the 5-11 year olds and 21-30 yr age group.
57.1% of the 5 to 11 year olds are now fully vaccinated with another 23.1% awaiting or already due for their second doses.
The 5 to 11 year olds are the last age group approved for the vaccine and more than half were fully vaccinated in a short amount of time.
The concern of health officials is the 21-30 year olds. 65.3% are fully vaccinated with 3.9% awaiting or due for their second shots.
Department of Health Chief Epidemiologist Dr. Aifili John Tufa said while there have been spurts of 21- 30 years olds getting their shots, the overall total vaccination rate has not grown by much in the past two months.
He said they want to verify the estimated total number of 21-30 years old living in American Samoa which is being used as the denominator for measuring the vaccination rate.
DOH is also now tracking the number of people getting booster shots.
"If you get the booster, your chances of getting a severe disease is much less compared to somebody who didn't get a booster shot and also compared to those who were sick with the virus and recovered," explained Dr. Aifili. "Having a booster is your best bet according to the data that we're seeing right now."
As of Jan. 17, a total of 4,898 people have received booster shots.
Photo: DOH vaccination teams