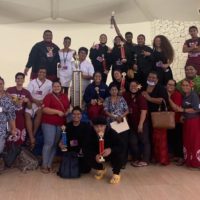 Tafuna High School has again topped this year's Secondary Speech Festival which was held today.
The 35th annual competition had performers from all public high schools on Tutuila and Manu'a plus Iakina Adventist Academy and Kananafou.
The Warriors placed first in three out of 6 categories: original script, dual acting and oral interpretation.
The overall placings:
1st Tafuna
2nd Leone
3rd Fagaitua
Here are the winners for each category.
Impromptu speech:
1st: Leone- Vaafuti Vaafuti & Samoana-Mataioi Suluai
2nd: Tafuna-Elvira Noga
1st: Fagaitua-Genovia Pau
Original Script Writing
1st: Tafuna-"The Cycle Ends Here" (Ana Leigh Hudson, Liualevaiosina Leiato, Tapuitea Carruthers, Vaina Vaofanua, Shekinah Solomona)
2nd: Leone-"Decisions, Decisions" (Darwin Selesele, Anthony Faiivae, Omeka Naoupu, Tilongiana Faamu, Robert Koon Wai You)
3rd: Samoana-"We Matter" (Mary Misilei, Matalasi Fruean, Rylee Jessop, Aleyah Grey, Bainivalu Davetawalu)
Story Telling
1st: Fagaitua- Laulaau Leuta, "Mt Vaea and the Tears of Apaula"
2nd: Manu'a-Allyson Liusamoa, "The Tragic Myth of Orpheus & Eurydice"
3rd: Tafuna-Glorious Lisala, "The Legend of Sina and her Eel"
Dual-Acting
1st: Tafuna-Faith Mataafa, Toasamoa Tauala, "Anything you do I can do better" from the musical "Annie get your gun"
2nd: Fagaitua-Lonetona Fanene, Peau Sina, "Encanto-Maribel and Abuela"
3rd: Leone-Caroline Purcell, Darlene Haunga, "Annette & Gina" from the play "Parallel Lives."
Oral Interpretation:
1st: Tafuna-Dora Malila, "Songs of the Fat, Brown Woman"
2nd: Samoana-Eciladen Ulu, "Checking In"
3rd: Leone-Pepe Aifesili, "It's Terrible Being Nice"
Freestyle Poetry:
1st: Leone-Joeann Mose, Pitolua Sunia, Fuarosa Molesi "Get it Girl"
2nd: Samoana-Audrey Seva'aetasi & Aisaka Nomaaea, "Pleading with the Mirror"
3rd: Fagaitua-Nuutofi Faauila & Teresa Tupule "Perfectly Imperfect"