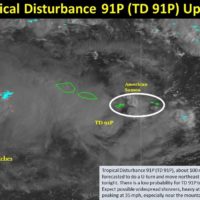 The National Weather service is monitoring a tropical depression near us. John Raynar reports.
National Weather Service says that a tropical disturbance is bringing heavier winds and rain across the territory over the course of the day.  Meteorologist Joe Leplante explains.
Play Audio
As this tropical disturbance is in close proximity to American Samoa we are currently under a flash flood watch and a wind advisory, which means sustained winds of 25 mph and gusting up to 35 mph.
Play Audio