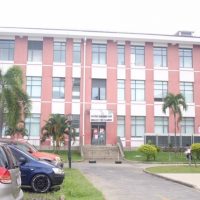 The American Samoa Department of Health says it has not received official notification from the Samoa Ministry of Health concerning the ten positive coronavirus cases now in isolation at the National hospital in Motootua.
Acting Medical Director for DOH Dr Peta Lauvao who is the point of contact with Samoa's Ministry of Health said in a phone interview with KHJ News that they were awaiting a report from MOH. She pointed out that their counterparts are tied up in Parliament so there could be a delay.
Dr. Lauvao said any changes to travel between the two Samoa, entry requirements and quarantine for travelers on this route will be made after they consult with their counterparts.
After the announcement about the ten positive cases was made yesterday employees and shoppers at some of Apia's major supermarkets were seen wearing masks.
Some were stocking up on essentials in case there was a lockdown.
At a press conference yesterday the chairman of the National Emergency Operations Center, Agafili Shem Leo, laid to rest any suggestions of a lockdown.
Questions are being raised on the flight from Brisbane, Australia, believed to be that country's epicenter for the Omicron variant. The ten positives were among 73 passengers on the flight. They and nine others who were in close contact with them, are now in isolation at the hospital in Motootua.
People are surprised that there were passengers on the flight when an announcement from the NEOC had said the flights for January from Australia were to pick up seasonal workers from Samoa.
It was revealed that the ten positives traveled on foreign passports but were granted permanent residency.
One other question is whether they were in transit travelers or their travels originated in Australia.