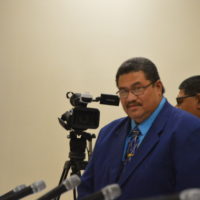 Yesterday was the deadline for registration under the immigration amnesty program announced late last year by Governor Lemanu Peleti Mauga.
Yesterday Vice Speaker Fetu Fetui urged that the Fono be given a report on this latest amnesty which follows one that former Governor Lolo Moliga conducted in 2019.
Fetu said the House is aware of problems with immigration under the former Chief Immigration Officer and it's important for lawmakers to get a report on the current amnesty program to assess the influx of foreigners into the territory.
He said from his observations outsiders are flowing in large numbers and he was particularly concerned about those from Asia. Fetu told his colleagues "if we dont control the flow of aliens, there'll come a time when only people from China, Philippines and Indonesia will be selling at the market, but no Samoans."
House Speaker Savaii Talavou Ale said the House can call a hearing with the Attorney General, Chief Immigration Officer and members of the Immigration Board as witnesses.
Governor Lemanu announced the amnesty program as part of the emergency declaration for Covid-19 in November.
Registration was to start November 13 and end on December 13, however the deadline was extended to January 13.