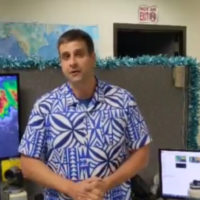 10:30 pm Thursday: The National Weather Service said on its FaceBook page that there's no threat for tropical development such as a tropical storm or hurricane in the next 36 hours for American Samoa.
1:26am Friday: The threat of flash flooding, gusty winds and thunderstorms remains through Friday night…
The latest satellite imagery shows the South Pacific Convergence Zone (SPCZ) strengthening during the overnight hours to develop showers over American Samoa. As the rainfall continues to move over the territory, rainfall may be heavy enough to produce flash flooding at times over the region. A Flash Flood Watch remains in effect through Friday night.
Possible impacts from flash flooding include: flooding in flood- prone and low-lying areas, overflowing of streams, possible landslides, and runoffs.
Satellite imagery also shows winds reaching up to 25 mph from the rainfall to the west of the territory. This rainfall is currently moving towards the region and the gusty conditions will likely accompany the rainfall.
Possible impacts from these winds include: risk of unsecured items being blown around, possible downed tree branches and shallow root trees, and a slight chance of power outages along with downed power lines.