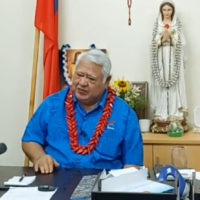 Former Prime Minister and opposition leader Tuilaepa Sailele Malielegaoi, is reported to be recovering well at the national hospital in Motootua after being admitted with flu symptoms, Thursday evening.
In an official statement on the Human Rights Protection Party FaceBook page, HRPP Secretary Lealailepule Rimoni Aiafi said the veteran parliamentarian, was recovering well.
 
"We have been informed that Papa is recovering well from the normal flu, and that he is requiring plenty of bed rest."
 
Tuilaepa, who admits to being a "workaholic", held his usual weekly press conference Thursday morning at his Petesa, Mulinu'u office.
 
It is not known when he would be released from hospital but he told media at the press conference he and his party were preparing for the resumption of Parliament on Tuesday January 18, 2022.
 
"Our (Parliamentary) finance committee has already prepared our report on the Supplementary Budget," he said.