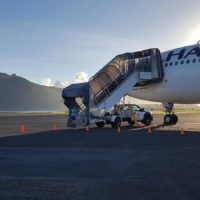 One traveler in quarantine tested positive for coronavirus after the second and final test for passengers who arrived on the January 6th Hawaiian Airlines flight.
Director of health Motusa Tuileama Nua said the male who traveled by himself has been moved to the isolation facility. Six others from the flight tested positive during the first test.
All are fully vaccinated and are asymptomatic. They are nit showing any symptoms of Covid 19.
Motusa says they hope to send off samples from the positive tests to the Centers for a disease Control and Prevention, Honolulu for testing hopefully by this weekend.
He said they want to determine the variant of the latest positives, adding they suspect it's the fast spreading Omicron variant.
The rest of the 179 passengers from the Jan 6 flight are being released from quarantine this morning.