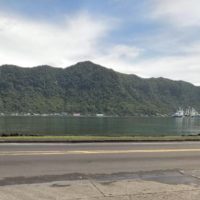 Public schools were let out at 11 am due to the anticipated bad weather. though it turned out to be sunny and fine for much of this morning,
The heavy rains fell after 8am but didn't last long.
A post on the Department of Education FaceBook page said all public schools, students only, will be out early today at 11 am due to bad weather.
With the sun out and no rain when schools were let out, parents were puzzled with the early school closure.
Deputy Director of DOE Folau Faafetai Teofilo said a decision on whether schools will be held tomorrow will be made after a meeting with Governor Lemanu at 3 this afternoon.
Asked about school bus service for private schools which are continuing classes as usual he said school buses will carry out their normal schedule for private schools.
The Emergency Operations Center said in an announcement to the media that all public school principals, vice principals and teachers will remain on campus at their respected schools. All other DOE divisions are to report to their respective Assistant Directors for further instructions.
 
The territory is not out of the woods yet. The National Weather Service cautions about possible flash flooding later today followed by windy conditions tonight through tomorrow night.
A low pressure system embedded within the South Pacific Convergence Zone (SPCZ), as well as the SPCZ itself, could produce hazardous conditions for the territory today through Friday night. The main threat from this pattern is flash flooding, though winds could reach advisory levels of 20 to 30 mph with higher gusts for tonight through Friday night.