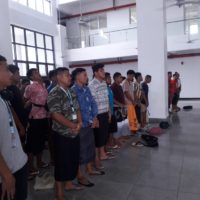 For the first time ever, Samoan sailors  may now work at 'officer level' ranking, an opportunity now being offered through the Samoa Shipping Services,.
SSS is a government authority set up specifically to ensure placement of trained Samoan sailors on overseas vessels.
 Minister of Works, Transport and Infrastructure, Olo Fiti Vaai said,  "The new employment opportunity is a dream come true for S.S.S. and Government after years of efforts to secure these excellent opportunities for our sailors, following 40 plus years of partnership with the Mediterranean Shipping Company (M.S.C)."
 Close to 300 Samoan sailors are currently employed on cruise ships and cargo vessels around the world.
More sailors will depart Samoa this month  and next, with the aim of having 400 to 500 sailors employed on board Mediterranean Shipping Company (M.S.C) vessels by the end of the year.
Photo: Students of Marine Training School