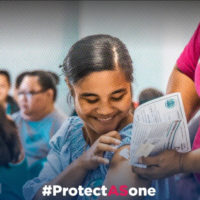 The Covid-19 Task Force has released more details of the Covid Mass Vaccination planned for next month..
As announced the mass vaccination will now be spread out over the first three Wednesdays of December instead of three consecutive days.
Dec. 1st, 2021 for the central district (Ituau – Aitulagi);
Dec. 8th for the western district (Tualauta – Alataua);
Dec. 15th for the eastern district (Vaifanua – Maoputasi);
The Thursdays after each district mass vaccination have been designated as "mop up" days to capture anyone who missed getting their shot the day before.
There will be 5 vaccination sites that will be mobile, meaning for the first few hours of the day, one vaccination team will operate in one area in the morning and then that same team will move to another area in the afternoon.
Additionally, the health clinics will operate extended hours for any parent who wish to bring their child into the clinics after hours.
The Planning Committee headed by DOH, began table top exercises and informational meetings with village mayors and Parent Teachers Associations to inform them of the plan and answer any questions.
Yesterday was the tabletop exercise with the Central District and PTA meetings for the central areas will be on Nov. 29th at the Tafuna DYWA and Nov. 30 at the Manumalo Gym.
The meeting with the Western District village leaders will be held on Nov. 30 with the PTA meetings on Dec. 6 at Faasao Marist High School and Dec. 7 at the Leone Catholic Hall.
For the Eastern District their tabletop exercise will be on Dec. 7th and the PTA informational meetings will be on Dec. 13 at the DYWA in Pago and Dec. 14 at Fagaitua High School.
Dr. Francine Amoa, head of the mass vaccination said, "The most important part of these meetings is explaining the consent form that parents or legal guardians must sign before any child gets the vaccine."
The Mass Vaccination planning committee is also partnering with the private sector to promote the vaccination drive on the various media platforms.
A complete list of the mass vaccination drive schedule, vaccination sites, and hours will be available in the coming days.