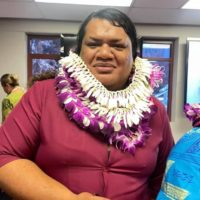 Congratulations to Christian Wright Saalea of Tafuna High School, the new Territorial Teacher of the Year.
The top teacher was announced by the head of the TTOY Selection Committee Tasha Leatioo at a ceremony this morning in the Department of Education conference room.
Christian joins other Tafuna High School teachers who have won the top teacher award for American Samoa.  
In remarks after the announcement, a teary Christian said he was inspired into teaching by a former educator. And this is not the first time that he's vyied for the honor.
Play Audio
Congratulations Christian!