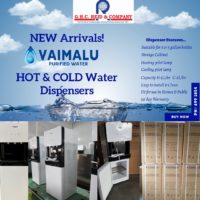 The territory's main producer of bottled water, SLC Manufacturing Inc., a company in the Reid Group of Companies, has upped production to try and meet demand while the territory is short of the small imported bottled water.
Importers say the reason for the shortage is because overseas suppliers are struggling to meet demand and their orders have been reduced or delayed.
Hardly any stores are selling cases of the small bottled water as they have run out.
But 1 gallon bottles are still available. The island shortage of bottled water has increased demand for Vaimalu water, produced by SLC Manufacturing,
General Manager Cherith Lober Soliai says they continue to produce 5-gallon bottled and recently brought in Vaimalu water dispensers to complement this part of their water business,
They are seeing a flow of new customers who have signed up for the 5-gallon option as they have been unable to purchase cases of bottled water in the stores.
"Our 5gallon customers are regular contract customers who continue to refill purified Vaimalu water for their homes and offices," Lober Soliai told KHJ News.
From an average of 3,500 refills per month, for the 5gallon water, demand has risen in the last few weeks, with new customers signing up for the 5-gallon supplies.
The GM said it's too early to tell if they will be regular customers, or they are only turning to the 5-gallon for now when they can't buy cases of bottled water.
SLC Manufacturing stopped production of 300 and 500 millimeter bottles of water and 1 liter bottles in the last few months.
The GM explained that this was due to maintenance and overhaul being halted by Covid and border restrictions.
The company has obtained new equipment to help water production and local contract personnel is to install the essential equipment and parts to get the manufacturing line back into production this month.
Fortunately they have an ample supply of packaging material having placed advanced orders through alternative supply points to cater for such delays.
GHC Reid imports premium water brands such as Dasani, Smartwater and Vitamin Water from the US, and Fiji Water. 
According to Lober Soliai they have always maintained a good supply of water but recently due to other brands shorting the market, ghc reid had to purchase extra containers to keep up with the extra demand.
All their stocks are rationed, and they currently have only Fiji water, Smartwater, and Vitamin water in stock. Dasani supplies should be arriving early next week.
Lober Soliai pointed out they are working closely with their Coca Cola supplier to prioritize all their water containers for the remainder of the year. 
While some think shipping delays are responsible for the shortage, a schedule for vessels arriving in port shows 13 arrivals for October and November including four from the US.
Some customers tired of having to look for cases of water all over the island are asking why we can't import bottled from Samoa.