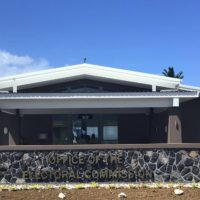 Voters in constituencies whose election results were declared null and void by the Supreme Court will return to the polls next month.
The Office of the Electoral Commission has set November 12, 2021 as polling day for the seven by-elections following election petitions stemming from the April 9 General Elections.
The OEC said in a public notice that the Speaker has issued a warrant to prepare for the by-elections.
Writs for the by-elections will be issued Friday October 15 and nominations of candidates will start October 18-20.
Campaigning period has been set from October 25 until November 9 with pre polling to be held on November 10.
According to the OEC the last day for withdrawal of nominations is October 29.
A Faatuatua i Le Atua Samoa ua Tasi party candidate for Aleipata Itupā I Lalo, former Manu Samoa coach Faleomavaega Titimaea Tafua, is the first to publicly announce that he is running.
At present FAST holds 26 seats in Parliament while the Human Rights Protection Party has 18. The results of the by elections would determine if the FAST Party of Prime Minister Fiame Naomi Mataafa will continue to hold on to power or be replaced by the Human Rights Protection Party, led by former PM Tuilaepa Sailele Malielegaoi.