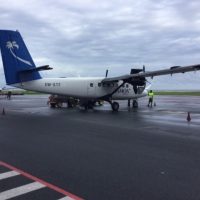 Guest workers for StarKist Samoa who were scheduled to travel from Apia today were notified last night that they would not be leaving.
Cannery officials were reportedly told last evening that all flights from Samoa are cancelled until further notice.
Guest workers told KHJ News in Apia they were informed last night about the cancellation.
Some were having farewells with their families when they got the call.
The cannery is still trying to bring across the remaininder if their 200 guest workers from Samoa who were hired during a recruitment last month.
KHJ News understands that 150 have arrived in the territory.
In the meantime the Dept of Health notified local media late last night about a press conference to be held at 8 this morning for a special announcement.