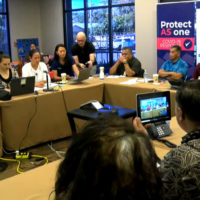 American Samoa has recorded its first confirmed coronavirus case.
The positive case was a passenger who arrived on the September 13 flight from Hawaii and was referred to as a "she" during statements by Dept of health officials at a press conference this morning.
Chairman of the Covid 19 Task Force Lt Governor Talauega Eleasalo Ale said thst the individual had been in quarantine and has now been removed and in isolation.
A press release said the individual had been quarantined at Sadie's by the Sea. Yesterday was the first day of testing for the more than 250 travelers on the Monday flight.
The person had tested negative for the three Covid-19 tests before leaving on the September 13 Hawaiian Airlines flight from Honolulu to Pago Pago. The individual was in a room by herself at the quarantine site. All those who may have been exposed to the individual are also in quarantine.
Dr Peka Lauvao said the individual had received two Covid vaccinations here before leaving the territory for the mainland. Dr Lauvao and the Lt Governor both stressed it's been known that being fully vaccinated will not prevent a person from getting the virus so this should not come as a surprise.
Dr. Lauvao urged that those who have not been vaccinated or fully completed their vaccinations come in as soon as possible to get their shots and be protected from the virus.