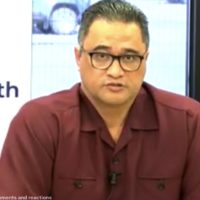 All of those who may have been exposed to the confirmed coronavirus case including personnel at the airport, Dept of Health and workers quarantine sites have been taken into quarantine.
The female traveler who tested positive for coronavirus yesterday had been in quarantine at Sadie's Hotel. This was the first Covid test for the travelers who arrived on the first commercial Hawaiian Air flight last Monday, September 13.
The woman has been removed from Sadie's Hotel and is now in isolation at the Dept of Health Alternate Care Facility at Tafuna. She is the only one of the more than 250 travelers who had a positive test.
The woman is a local resident who was fully vaccinated before traveling to the mainland. She registered on TalofaPass and receivd 3 negative Covid-19 test results before leaving Honolulu on the Monday flight to Pago Pago.
The traveler was asymptomatic when tested and is reported to be well. She was by herself in her room at Sadies by the Sea.
DOH Epidemiologist Dr. Aifili John Tufa explained a possible scenario of how the traveler could have picked up the virus after her final Covid test before departure.
Play Audio
The Chairman of the Covid 19 Task Force Lt Governor Talauega Eleasalo Ale said Hawaii flights will continue using the TalofaPass system which he said is working but at the same time they will monitor the situation.
Asked about any new restrictions or protocols to prevent a possible spread of the virus, he said people should continue to live normal lives.
Play Audio