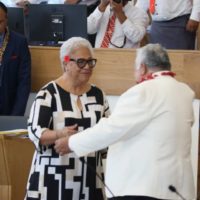 A mood of reconciliation swept over Parliament House this morning in contrast to the tit for tat between the two main political parties since the April 9th general elections.
Leader of the Human Rights Protection Part, Tuilaepa Sailele Malielegaoi and 17 HRPP members who were elected entered the Maota Fono and took their seats on the opposition side of the House for the first time.
An emotional moment came when Tuilaepa and Prime Minister Fiame Naomi Mataafa embraced . Clapping erupted from the gallery.  Then the rest of the HRPP MPs crossed the floor to shake hands with the FAST government MPs.
Before Tuilaepa greeted Fiame, FAST co founder Olo Fiti Vaai was the first to walk to the opposition side, extended his hand to the former PM and they hugged.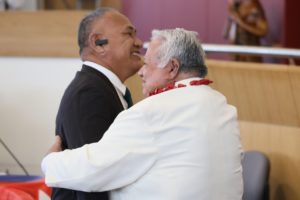 Speaker Papali'i Li'o Taeu Masipa'u opened the prayer with the words, "This is the day of the Lord."
In his remarks he urged Tuilaepa and his side to set aside any troubles of the past months and look ahead as they work together to govern the country for a better future for their citizens.
In response Tuilaepa said they have accepted the decision of the Court that appointed Fiame as Prime Minister, they had handed FAST the reins of power and they now look forward to being the opposition party.
He said despite the heated differences of opinions, Samoa has remained peaceful.
Fiame congratulated and welcomed Tuilaepa and his party and expressed her wish that they will all use their calling as members of Parliament to work towards the betterment of the people.
Since Parliament sat on Tuesday HRPP have been trying to enter and be sworn in.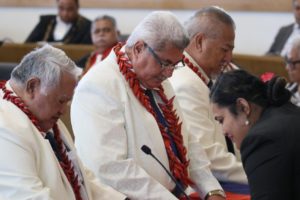 The Speaker had informed them on Monday that they are barred from Parliament as they have refused to recognize him as Speaker and also that the new FAST Government.
HRPP sought a ruling from the Supreme Court to declare the Speaker's decision as illegal and to allow them to be sworn in so they can represent their constituents.
The Supreme Court agreed and ordered that the HRPP members be sworn in "forthwith."
After the swearing in this morning and the speeches, the session was adjourned till Monday for continuation of speeches on the financial year 2021/2022 budget.