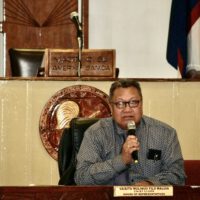 A new solution was hatched to acquire materials and supplies for repairs at schools which the Dept of Health closed down due to unsanitary conditions.
Chief Procurement Officer Ti'alemasunu Dr Mikaele Etuale says the solution is a new new and is not illegal.
The CPO told a House hearing that after the Dept of Health closed down many schools just a few weeks before the opening of the new school year, the Director of Education had reached out for help.
The CPO and DOE Director collaborated with Acting Governor Talauega Eleasalo Ale on a solution to facilitate school repairs as fast as possible.
Ti'alemasunu said a stumbling block was that no local company was willing to extend credit to ASG because of past experience in getting paid.
He suggested an open purchase order with a limit of $50,000 with each of the territory's four main building suppliers:Ace, CBT, Tool Shop and Tautua mo Oe, with the proviso that DOE pay the invoices in a timely manner.
Ti'alemasunu said he met personally with the managers of the companies and gave his word that they will be paid on time.
The companies agreed to the proposed arrangement and the CPO said its worked well and enabled the repairs of school facilities to be completed on time before the new school year opened.
Ti'alemasunu told lawmakers that DOE has ample Covid money to spare $200,000 to pay the materials and supplies to upgrade school facilities.
Going forward the CPO has recommended that DOE work in collaboration with Public Works and Dept of Health and present a School Maintenance plan for the whole year.
He also suggested that school inspections be carried out regularly throughout the year instead of just a few weeks before the start of the new school year.