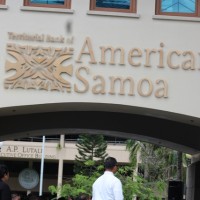 The House of Representatives has confirmed by unanimous vote the appointments of Senator Togiola Tulafono and businessman Toloai Ho Ching, to serve on the Board if Directors of the Territorial Bank of American Samoa.
Both nominees turned up for the confirmation hearing but only Ho Ching appeared before the House Commerce and Retirement Committee. Members decided out of respect to forego the questioning of Senator Togiola.
Both nominees were approved by a vote of 17-0. The Senate confirmed both nominees last week so they are cleared to serve on the TBAS Board.
Also today the House and Senate approved in final reading their versions of the $12.6 million appropriations bill.
The amendments that were agreed to at the joint House and Senate meeting last Friday are included.
Funding for the Constitutional Convention is increased to $1.3 million while half a million dollars that was allocated for bonuses for Covid 19 response and half a million for stipends for boards and commissions have been reduced to zero.
Another administration bill that was approved in final reading by both chambers today appropriates the sum of $255,576.34 to buy vehicles, a motorcycle and computers and printers for the Dept of Public Safety for traffic enforcement.