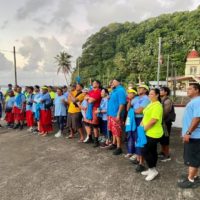 An early morning walk along the coast kicked off the 2021 Coast Weeks celebration today.
The walk covered sections of the coast from Avau Point to Suiga ula o le atu Vasa and from the DWYA gym in Pago Pago to the Fagatogo marketplace.
Acting Governor Talauega Ale spoke at the Fale Samoa at Suiga Ula and used the words of the Hymn Lota Nuu to highlight the theme for this year'scelebration, "Balancing our coastal heritage and economic prosperity."
He said, "We must collectively come together to protect what God has gifted us. This hymn is a reminder to thank God for what He has blessed us with and of our responsibilities to be good stewards of the environment."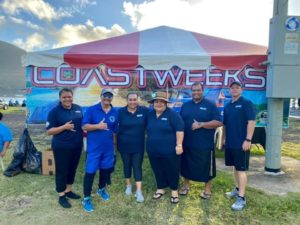 Talauega added, "We have been given stewardship over our environment, so in turn, it may fulfill its purpose of providing for us all now and into the future."
Acting Governor Talauega shared that, "To practice being good stewards various departments are working towards forming a Climate Change Commission, an initiative to help protect and sustain our environment for generations to come."
Director of Commerce Petti Mattila echoed the importance of this year's theme and reminded that "we should partake in sustainable practices for our coasts as it is the source of wealth for our economy."
Other events for Coast Weeks include: Art and tide student competitions, paddle challenge, wetlands and Bay Area tours, Coastal Stabilization Day, Coastal Clean Up Day and Family Coastal Day. Call Dept of Commerce at 633-5155 if you want to be part of the events.