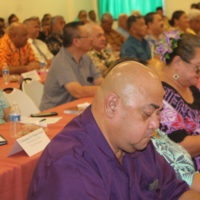 Public schools are to return to class on August 23 for the beginning of the 2021/2022 academic year.
Director of Education Talauega Dr. Samasoni Asaeli announced the opening date at last week's cabinet meeting.
He said while some may think schools are starting earlier than usual, that's not the case. From the last day of class for the previous school year to August 23rd, it's exactly two months.
"There must also be allowances for natural disasters or other unexpected occurrence that would force the closure of schools," said Talauega.
DOE will open the new school year with a church service for all DOE staff at Kanana-fon August 15th.
The next day, all teachers will report to their respective schools and prepare for the first day of classes the following Monday.
The Department of Education includes Early Childhood Education (ECE) elementary schools and high schools. Each year, roughly 17,000 students are enrolled in the public school system.
Some private schools which ended the last school year ahead of public schools will be returning to class a week or two earlier.