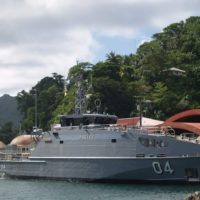 The Samoa patrol boat, Nafanua II, arrived in port this morning to pick up oxygen supplies for the national hospital.
It's understood that the vessel brought about 100 empty gas cylinders to be refilled by Industrial Gases.
Port Director Christopher King said the vessel was supposed to leave today however it's departure is delayed until tomorrow morning because of the time required to refill the oxygen cylinders.
It is now docked at the inter island dock and the captain and crew remain on board until the vessel departs tomorrow.
During the measles epidemic in Samoa in 2019, the old Nafanua made several trips to the territory for oxygen supplies.
Samoa took delivery of the Nafanua II, a gift from the Australian Government, last year.