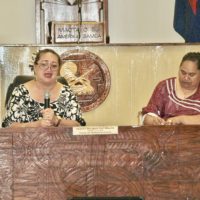 A teary Budget Director Catherine Saelua apologized to members of the House Budget and Appropriations Committee this morning after a handful of representstives pointed out that that the executive branch violated the budget law when it implemented salary increases for teachers without the Fono's approval.
The Committee was looking into the teacher salary reclassification which went into effect May 1st.
Reps. Larry Sanitoa, Vice Speaker Fetu Fetui and Vaetasi Tu'umolimoli Moliga did not mince words telling Mrs Saelua that the Budget Procedures Act had been violated by the administration.
They said everyone wants teachers' salaries increased but it has to be done according to the law.
Rep Sanitoa said the constitution is clear that the Fono has appropriation authority and all sources of funding whether grants or local have to come to the Fono for appropriation.
Play Audio
Vice Speaker Fetu fetui was more direct.
Play Audio
Deputy Director of Education Roxanne Suaava Salave'a told the hearing thst the amount of federal grants used to pay the salary increases for teachers was $2.3 million. This covers the variance or the difference between the salaries in the budget and the higher salaries and will cover from May 1 to September 30.
The DOE official said the source of funding is the Education Stabilization Fund which will expire in 2024. CARES Act funding is also being used.
Salave'a assured that the federal grantor has given approval to use the federal grants on the salary increases.
Play Audio
The normally soft spoken Rep Vaetasi said the Budget Director was well aware of the Fono's appropriation authority. He said the executive branch proposes the budget and the Fono approves it. But what has happened here is that the executive branch has proposed and approved the budget.
He said the executive has taken over the duty of the Fono and this is a violation of the law.
He urged Mrs Saelua to comply with the law and not make one person happy while violating the law in the process.
Mrs Saelua in a shaky voice apologized to the committee chairman and representstives.
She said it was not the intention of the administration to violate the law, but it was the desire of the governor to raise the salary of teachers so they can pay their bills and take care of their families.