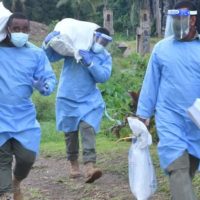 Fiji has recorded 1054 new cases of Covid-19 in the 24 hours to 8am yesterday.
That compares to 784 cases and 15 deaths in the previous 24-hour period.
The government also confirmed 12 more deaths between 13 and 19 July, taking the death toll to 125 with 123 of these from the latest outbreak that began in April.
Health Secretary Dr.James Fong said seven of the 12 victims had died at home, with one patient receiving one dose of the AstraZeneca vaccine. The rest were unvaccinated.
There have been 343 new recoveries reported since the last update, which means that there are now 14,943 active cases. There have been 19,282 cases during the outbreak that started in April 2021.
"We have recorded a total of 19,352 cases in Fiji since the first case was reported in March 2020, with 4233 recoveries."