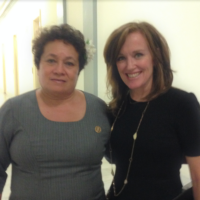 Congresswoman Uifa'atali Amata is welcoming House passage of the bipartisan VA Police Improvement and Accountability Act (H.R. 2429), legislation introduced by Rep. Kathleen Rice (NY-04).
The bill, which requires body cameras and strengthens oversight and accountability for the Department of Veterans Affairs' police operations, passed the House unanimously.
The VA Police Improvement and Accountability Act seeks to reform several shortcomings regarding current VA police policies and procedures that were exposed in a House Veterans' Affairs Committee hearing on June 11, 2019.
The hearing followed an incident when a veteran was mistreated and injured by VA police at the Northport VA Medical Center on Long Island.
The bill would:
Require VA police to use body cameras and requires the Department to issue guidance on their use. VA must develop and issue the guidance in consultation with relevant stakeholders, covering best practices to ensure that the use of body worn cameras is consistent with civil rights and privacy law.
Strengthen oversight of the police force at VA facilities by improving data and reporting on police incidents. VA would be required to implement department-wide data systems to track and analyze police activity such as arrests, ticketing, use of force, complaints, and disciplinary actions.
Require VA to provide information and points of contact, including on the Department's website and those of individual facilities, related to VA's law enforcement operations. Statistical information regarding arrests, use of force, and other key metrics would become publicly available.
Require the VA Secretary to develop a plan on police staffing that establishes minimum standards for staffing at each VA facility, and requires VA to submit a report with respect to staffing needs of the police force following implementation.
"I'm pleased to see this accountability reform bill gather strong support and pass the House," said Congresswoman Uifa'atali, who co-sponsored the bill.  "Through these transparency measures, we can put our Veterans first and make data available that can better serve both our Veterans and VA Police. Thank you to Rep. Rice for her leadership throughout this effort.
"Across the country, there are reports of inappropriate conduct and a troubling lack of oversight and transparency among VA police force," said Congresswoman Rice. "Our veterans deserve much better from the agency that exists to serve them. My bipartisan bill will address shortcomings in VA's police force by requiring police officers to wear body cameras and enacting other important measures to strengthen oversight and accountability. I thank my colleagues in the House for supporting it today to help us better serve and protect our nation's veterans."