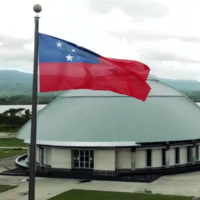 Samoa's next budget under a Human Rights Protection Party government will see spending exceed $1 billion tālā for the first time.
Speaking on radio 2AP caretaker Prime Minister Tuilaepa Sailele Malielegaoi said that even with the current state of the political situation, his government has prepared a standby budget for the 2021/2022 financial year.
"Whatever the outcome of the current situation whether we remain or not, at least we have prepared," he said.
Tuilaepa said this is all part of a government working under good governance principles.
"This budget gives an indication that the economy of Samoa is growing steadily."
He pointed out that for the first time since Samoa became independent, the annual budget has reached $1billion tālā.
Current expenditure is estimated at $842.6million.
Projected development projects funded by overseas partners will bring $158million tala and government continues to expect increases in remittances from families overseas to rekatives in Samoa.
The expected large number of bi-elections resulting from election petitions being heard at the moment has seen a total of $5million tala allocated to the office of the Electoral Commissioner.
The National University of Samoa will get an increase to meet government plans of free tuition at that level.
Tuilaepa also mentioned the third phase of the stimulus package for the tourism industry.
He indicated there may be tax cuts and assistance in reduction of interest rates for tourism related loans.
The disabled population will be getting assistance to the tune of $3million tala and old age citizens can expect an increase to maybe $200 per month.
But Tuilaepa warned that these plans will depend on what finances are available.
"You don't just pluck figures out of thin air and turn it into a budget," he said.