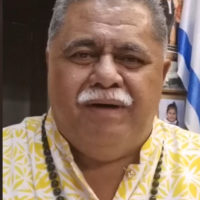 A 48-hour ultimatum by Samoa's Faatuatua I le Atua Samoa ua Tasi (FAST) Party for the caretaker Human Rights Protection Party government to vacate the government offices in the Fiame Mataafa Faumuina Mulinuu II Building has not happened.
Samoa Observer reports that the planned move for the party to walk in to the FMFMII building on Thursday morning to take over offices occupied by the caretaker Cabinet did not go ahead.
According to FAST deputy Leader, Laauli Leuatea Schmidt, they had given caretaker Prime Minister Tuilaepa Sailele Malielegaoi and HRPP to vacate the offices of government so they can move in as they are the newly installed government.
"Our position from Monday is they should vacate the offices, the nation has decided at the polls and the Court decisions have been made and they should exit and give way to the new Government. You have now witnessed today and confirm that Tuilaepa and H.R.P.P. do not want to leave office," he told media on Thursday.
Secretary for HRPP, Lealailepule Rimoni Aiafi, speaking on video to Newsline Samoa, confirmed that FAST had ordered HRPP at their Monday meeting to vacate FMFMII offices within 48 hours.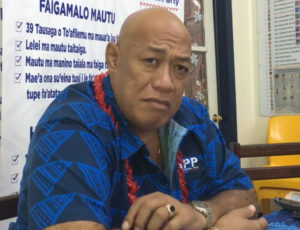 "We asked them what part of the law says that they should vacate and Fiame said there is no need to question which law, but we should go half cocked into it," said Lealailepule who had attended the meeting.
Tuilaepa and the ruling HRPP maintain that a recent appeal court decision says Parliament cannot convene without the 6th woman member required under Article 44 of the Constitution.
They also believe the court declared that Parliament cannot convene until after all election petitions are heard and any bi-elections conducted.
Laauli said they have put their trust in the law and part of their latest application to the Court is clarification on the recent ruling for the sixth woman M.P. and whether her presence or absence is required should Parliament convene.
FAST did not entertain a proposal by HRPP to withdraw all election petitions and allow the 6th woman MP to take her seat so Parliament can convene.
This would have effectively given both parties 26 seats each and a hung Parliament, ensuring new elections.
The 28 election petitions started at the Supreme Court on Monday and no decisions have been made yet.
Meanwhile the Supreme Court is scheduled to decide on Monday if the recent "swearing in" ceremony conducted in a tent by FAST installing a Prime Minister elect and cabinet along with a Speaker and deputy was constitutional.