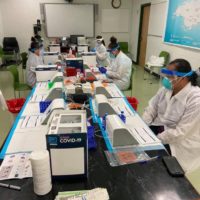 As of June 7, 2021, 63.9% or 23,588 residents eligible to get vaccinated for COVID-19 have received at least one dose.

Of that number, 56.1% or 20,712 people are now fully vaccinated. The data includes the new age group ages 12-15 who are now qualified to get the Pfizer vaccine. A total of 172 have received their first shot and 7 of them are fully vaccinated.  
In terms of the total population of American Samoa, this translates into 49.8% of people receiving at least one shot and 43.7% are fully vaccinated.
This past week, the vaccination campaign went out for its second weekend in the villages.  For the village outreaches in Leone and Aua, a total of 126 were vaccinated – 62 in Leone and 64 in Aua. Of the total number who got the shot on Saturday, 94 were for the first shot.
DOH epidemiologist Dr. Aifili John Tufa says there were competing events that day – such as the bingo and raffle in Leone as well as graduation celebrations – which may contributed to the low turnout in the village sites. Still, the Task Force is glad to have reached 126 people on Saturday.
Saturday's village vaccination outreach will be at the Leone Catholic Church Hall for the west side residents and DYWA Pago Gym for east side villagers.

For more information about this week's vaccination schedule, please dial 219.