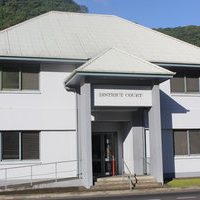 Si'ufale Amosa is charged with second degree assault for allegedly striking another man on the head and back with a metal pipe. During his arrest police found marijuana in his possession, resulting in another charge of unlawful possession of marijuana.
During his initial appearance, the prosecutor opposed a motion by Amosa's attorney to reduce bail from $15,000 to $5000.
He said although Amosa, a citizen of Samoa, has been residing in the territory for over 20 years, he is a flight risk and must be keot in custody until his case is heard. The court sided with him and kept the bail for Amosa at $15,000.
According to the government's case there had been a drinking party at a home in Petesa on the night of May 9th. The homeowner and a friend, and Amosa and a friend were present.
Around midnight, the mood at the party turned sour after an argument over where the beer had disappeared to. The victim made a joke that Amosa had hid the beer in a back pack he was carrying.
The defendant then exited the home, and when he returned he held a metal pipe which he allegedly used to hit the victim first on the back, then the head.
The victim was rushed to the hospital for treatment of his injuries and police were called to the party scene. Amosa ended up at the Territorial correctional Facility.
He has waived his right to a preliminary examination and his case is now in High Court.