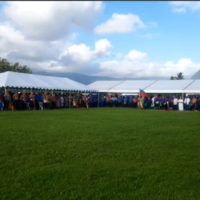 Samoa's caretaker Prime Minister, Tuilaepa Sailele Malielegaoi, has been told to accept the decision on an appeal by his Human Rights Protection being heard in the Court of Appeal this morning.
The call came this morning at a meeting of party supporters to get an indication of the direction the party should take.
Held at Tiafau, the traditional seat of government, chiefs and orators from the traditional districts were invited to give their opinion on the constitutional crisis the government faces.
Maulolo Tavita Amosa, speaking on behalf of chiefs and orators of Upolu island told the hundreds in attendance they supported the 6 women members for Parliamet.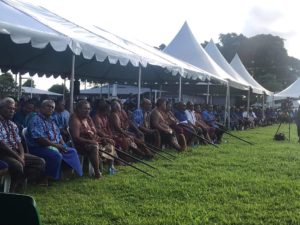 "Tuilaepa, our plea is, whatever the result of the appeal, accept it," he said.
Chiefs and orators of Savaii had earlier given Tuilaepa and caucus their solidarity and full support whichever way they decide on.
The appeal is against a Supreme Court decision to void the appointment of an extra women's seat as stipulated under section 44 of the constitution.
That seat would make for a hung parliament with 26 seats each for FAST and HRPP.
A rejection by the court would give FAST the reins of government.
The decision is expected some time this week.