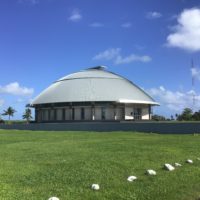 A notice issued tonight by the Office of the Speaker of Parliament, directly contradicts an order by the Samoa Supreme Court today.
The court had called unlawful the decision by the Head of State Tuimaleali'ifano Vaaletoa Sualauvi II to suspend a proclamation he issued two days ago to convene Parliament tomorrow.
The court at an unprecedented Sunday hearing today, made an interim order that any revocation of the Head of State's Proclamation dated 20 May 2021 summoning Parliament, is "unlawful and of no effect."
The court directed that its orders be served on the Clerk of the Legislative Assembly and be brought to the immediate attention of the Head of State and the Attorney General.
But tonight the Office of the Speaker announced that there will be no session of Parliament tomorrow.
The notice issued by Speaker Leaupepe Toleafoa Faafisi is printed here verbatim:
In compliance with the Proclamation by the Head of State issued on Saturday, 22nd May 2021 and as the continuing speaker of the Legislative Assembly under Section 30 of the Legislative Assembly Powers and Privileges Ordinance 1960, I hereby make the following notice:
1. The official swearing in of Parliament scheduled for tomorrow, Monday 24th May 2021 is now postponed until a further proclamation has been made by the Head of State.
2. Further Notice will be announced by the Office of the Clerk to officially inform Hon members of the Legislative Assembly, as well as invited guests for the State Opening of the XVIIth Parliament.