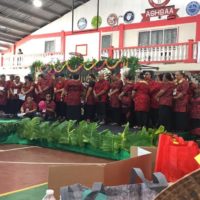 Public school teachers will soon see a bump in pay. The American Samoa Government is spending $2.9 million to increase the salaries of government teachers.
According to the Governor's Chief of Staff Tuimavave TAuapai Laupola, all teachers will have their salaries reclassified.
The new entry level salaries are:
$20,000 for those holding an AA degree (up from $16,000)
$31,000 for those holding a BA degree (up from $23,000)
$41,000 for those holding a Masters degree (up from $27,000)
$50,000 for those holding a Ph.D. degree
Chief of Staff Tuimavave said all paperwork for the reclassification of teacher salaries has been submitted to the Budget Office and processing started on Wednesday.
Teachers of private schools who are paid under the consolidated grants from the US Dept. of Education will also receive a salary increase, according to Tuimavave.
"The goal is to pay the credentialed teachers the same as public school teachers," said the Chief of Staff.