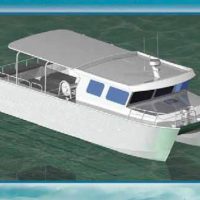 The American Samoa Government (ASG) is moving on a long publicized fishing development project with the issuance of a Request for Proposals (RFP) now being advertised. The RFP is for the purchase of four fishing vessels intended to support the growth of the local fishing fleet.
The issue date of the RFP is May 3rd and the deadline for submissions of proposals is 2:00 p.m. on June 7th.
According to information previously provided by the Dept. of Commerce, the purchase of the four vessels is funded by a $4.4 million grant from the US Economic Development Administration (USEDA).
One vessel will function as a training platform while the other three will serve as business incubators for boat owners and crew.
At a press conference in December 2020 announcing the USEDA funding, DOC Territorial Planner Michael McDonald said the contract for an experienced boat builder to construct the "super alia" should be out in the first quarter of 2021.
The first alia should be delivered in 10-12 months. The procurement for construction of the other three boats which will be for training purposes using the incubator model will follow.