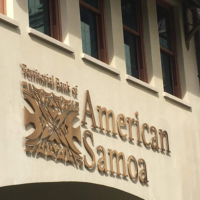 The Territorial Bank of American Samoa is extending its hours to better accommodate the community negotiating their Economic Impact Payments or stimulus checks.
The new hours effective May 6 through May 28 apply to both branches – Centennial and Tafuna.
From Monday to Friday the two branches will be opened 7:30AM to 3:00PM.
The first batch of the $1400 stimulus checks will be released May 6.
TBAS says it anticipates long lines and extended wait times during this period.
The bank encourages those with online banking and the smart phone mobile application to process their stimulus check for deposit up to $10,000.
Once the deposit is processed, customers can use ATM/Debit Mastercard to make purchases at local merchants and get cash from any of our 18 ATMs.
Waiting in line at the bank can also be avoided by electronic direct deposit with the ASG Tax office. Electronic deposit forms can be picked up from the Tax Office or from the TBAS website at mytbas.com
Non-TBAS customers are strongly encouraged to open a deposit account and deposit their stimulus check with a small cash withdrawal for safety and security.