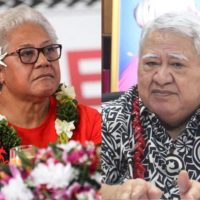 As we go to air, Samoa's Head of State is to address the nation concerning the next step relating to the general elections and the current stalemate in the formation of a new government.
Government sources have confirmed that The leaders of the ruling Human Rights Protection Party, Tuilaepa Sailele Malielegaoi and the Faatuatua i le Atua ua Tasi party, Fiame Naomi Mataafa met with the Head of State today to discuss the possibility of the country holding a new election.
Fiame confirmed the meeting to the Samoa Observer in a telephone interview saying "yes it is true there was a meeting".
She declined to comment further stating a press statement on the matter will be issued this evening.
Following the general elections, HRPP and FAST were tied at 26 seats each.
Meanwhile 28 election petitions stemming from the general elections were heard for the first time this morning in the Supreme Court.
Chief Justice, Satiu Simativa Perese assured that the judiciary will hear the petitions just like any other case with "scrupulous impartiality."
He estimates that the petitions and counter petitions will take 9-11 weeks to be heard.
The Head of State's announcement is set for 6:30pm.