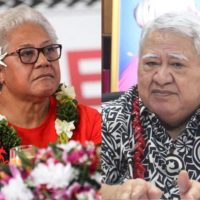 At a press conference Saturday , the leader of FAST (Faatuatua i le Atua Samoa ua Tasi ) Party Fiame Naomi asserted that her party would now be governing Samoa had it not been for the additional woman's seat that the Office of Electoral Commissioner (OEC) gave to an HRPP (Human Rights Protection Party) member.
She said the office's inconsistent decisions are responsible for the current stalemate.
According to Fiame, the Electoral Commissioner's seemingly hurried decision to enact part of the Electoral Act which allows an extra seat for women in the House has given a lifeline to caretaker Prime Minister Tuilaepa Sailele Malielegaoi and his Human Rights Protection Party (HRPP).
Currently, both the HRPP and FAST parties have 26 seats each.
The FAST leader also insists that the majority of voters in Samoa voted for FAST.
This claim does not coincide with figures that the OEC posted on its website after the official recount. According to those numbers, a total of 89,792 people exercised their right to vote. The incumbent HRPP party got more than half those votes at 49,337. FAST party members received 32,688 votes.