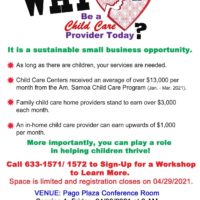 Parents in American Samoa should soon have more day care options than ever before. Child care is one of the industries that has been blessed with COVID-19 funding under the CARES Act.
The latest grant awarded to the Dept. of Human & Social Services (DHSS) is more than $49 million and is intended to help daycare centers in the states and territories. Most were essentially closed during the COVID-19 lockdown and the federal government is providing the boost in funding to bolster those programs and businesses. Here in American Samoa, DHSS hopes to use the funding to expand existing day care centers, provide them with more resources and also create new child care centers.
DHSS's Louisa Te'o explains:
Play Audio
DHSS held workshops Friday and Saturday to provide information about new opportunities made available by this grant funding. Reports from those workshops are forthcoming in future bulletins.