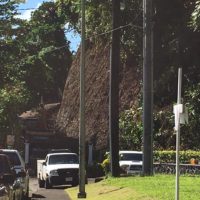 Last week KHJ News reported on unoermitted I excavation work at Maugaoalii, the hill on which the governor's residence is situated.
About the same time our report was broadcast, the Department of Commerce issued a stop order on the Maugaoalii activity.
Environmentalist Tisa Faamuli of Alega was concerned that the cutting of trees and digging of the hillside would cause a landslide which would be tragic with the Early Childhood Education Center, (ECE) situated across the road, and the highway below always busy with traffic.
there was no evidence of a permit application for the work or one being approved.
We asked the Director of Commerce Petti Matila about the visible unpermitted work on government property, as Doc is a lead agency on land use permitting.
Matila replied that for the excavation at Maugaoalii, "we learned about the project the same day the excavation occurred, and we have issued a stop order."
Asked for a reaction to the concerns of Ms Faamuli, Matila said, the resident has valid concerns, and the DOC is working closely with its PNRS member agencies to mitigate any potential hazards on site."