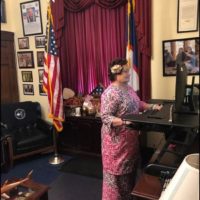 Congresswoman Uifa'atali Amata attended a review yesterday of a bill she cosponsored in the 117th Congress, the Puppies Assisting Wounded Servicemembers (PAWS) for Veterans Therapy Act.
The legislation pairs Veterans and service dogs to treat mental illness.
Uifa'atali took part in the review hearing by the House Veterans' Affairs Committee (HVAC).
A press release from the congresswoman says studies by Kaiser Permanente and Purdue University, working with service dogs alleviates symptoms of PTS, leads to better interpersonal relationships, lowers the risk of substance abuse, lowers the risk of suicide, and leads to overall better mental health.
The PAWS for Veterans Therapy Act will create a special pilot program within the Department of Veterans' Affairs (VA) to give veterans access to treatment for mental illness through working with service dogs.
In this effort, the VA will partner with non-profit organizations working with veterans and service dogs to create work-therapy programs. These Veterans learn the art and science of training dogs, giving them a new mission and new skills while gaining proven personal health benefits.
Upon completion of the program, the veterans may choose to adopt their dogs gaining continuing therapy.
"This is a wonderful idea that puts proven therapy to good use," said Congresswoman Amata. "During training, the dog is a source of wellbeing and purpose to a Veteran, while becoming a fully trained and valuable service dog to either help others, or stay with that Veteran.