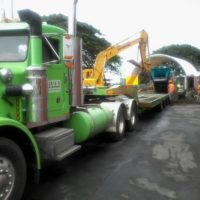 The Source Evaluation Board which reviewed bids for the Taputimu Vailoa road reconstruction did not include any comments about Silva Group's bid when it made a recommendation to the Chief Procurement Officer as to who will get the contract.
Seven companies submitted bids and the SEB comprising employees of the Dept of Public Works with engineering backgrounds, recommended Paramount. Chief Procurement Officer Ti'alemasunu Dr Mikaele Etuale rejected the recommendation and picked Silva Group instead.
SEB in its letter of recommendation to the CPO discusses each of the bids by 6 of the bidders but not Silva Group.
Aside from Paramount and Silva the other companies were CTC, H&H Inc, PJ Corporation, RM Construction, and Tony's Construction.
The SEB summarized that Paramount Builders submitted all required forms, list of their current projects and key personnel along with a list of equipment.
"They have the requisite road project experience since they are working on existing projects with the Dept of Public Works such as Route 104 Hospital Road Project which is 100% complete and Route 013 Road Reconstruction Malaeloa Village which is ongoing and other projects of similar types with the Dept of Port Administration," said the review panel.
The Port Administrations projects include the Pago Pago International Airport Apron Rehab project Stages 2-4, which is 65% completed, Apron Rehab Project Stages 5-6 at 40% in progress and on schedule, and Airlines Roofing Renovation Project at 98% completion.
The SEB agreed that Paramount is capable to handle the Taputimu Road Project.
It said the company possesses the required equipment and machinery and has their own materials/supplies, and the manpower to complete the project. The panel added that Paramount submitted the most responsive bid in regards to this solicitation.
CPO Ti'alemasunu has yet to provide his reasons for not going with the SEB recommendation and picking the Silva Group instead.
In June of last year we reported that Silva Transport and KLSS Landscaping Services have been "blacklisted" from bidding for more road maintenance contracts in Samoa.
Taua Paul Phillips, Board Chairman for Land Transport Authority told the Samoa Observer, "We want to emphasize that if you don't perform we won't consider [your company] and so the contractors that want to win [future] tenders [for] L.T.A. projects they need to be efficient and [adhere to the contract],"
Fata Leslie Silva abd his wife Jacinta, owners of Silva Transport have set up the Silva Group in American Samoa. One of their local partners is Mrs Gloria Ausage.
The company has a road maintenance contract with ASG, built the road to Coconut Point and was awarded the construction contract for the longliners' dock at Malaloa. It also built the Leone village road.
No information on the bid proposal by Silva Grouo is included in the SEB recommendation to the CPO.
While he said he would explain his reasons for picking Silva, KHJ News has not heard back from CPO Ti'alemasunu.