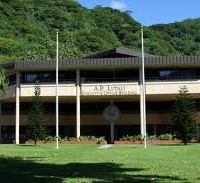 This coming Saturday, April 10th the Department of Health will have its 2nd Drive Thru Clinic for Covid-19 vaccinations.
Like the first one last month it will be held at the Pago Pago International Airport parking lot.
DOH says in its latest advisory all those who received their first dose at the first drive thru, are reminded to return for the second dose.
Please bring your vaccine card and photo ID.
The Moderna vaccine will be used for Saturday's drive through clinic.
Doh asks those who want to get a first dose to please call 219 or the Immunization Call Center 644-8444/8445/8446 to sign up and provide your hospital number.
You will need to bring a filled consent form with you on Saturday.
A new vaccination site opened Monday at the AP Lutali Executive Office Building(EOB), Utulei. The Lee Auditorium site also remains opened for shots, along with the Tafuna Community Health Center.