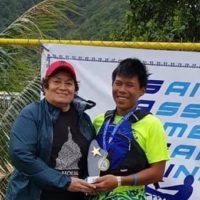 Local student Victor Chen is in demand at the military academies.
He has been accepted at the third military service academy.
Congresswoman Uifa'atali Amata has congratulated Victor Chen upon being accepted at the United States Naval Academy in Annapolis, Maryland,
Victor has also received a fully qualified appointment from the U.S. Air Force Academy in Colorado, and the U.S. Military Academy at West Point.
"These are outstanding opportunities, and a real credit to Victor Chen's academics and activities," said Uifa'atali Amata. "We're so proud of you, Victor, congratulations once again to you and your parents, Michelle He and Manua Chen. We wish you the best as you consider all the educational opportunities and scholarship possibilities you've earned."
Victor is a senior at Pacific Horizon High School in American Samoa. In addition to high test scores and academic records, he took part in a variety of extracurricular qualifications, displaying leadership, initiative, organization, and responsibility. These include volunteering, athletics, music, science fair, and other honors and activities, along with his internship focused on meteorological data.