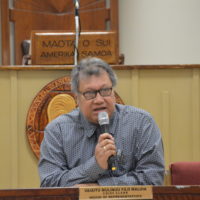 Chief Procurement Officer Ti'alemasunu Dr Mikaele Etuale has rejected a recommendation by the Source Evaluation Board to award the Taputimu Vailoa road construction contract to Paramount Builders.
Instead he has awarded the contract to the Silva Group.
Ti'alemasunu said in response to KHJ News questions, "I can confirm that I did reject the SEB's recommendation to award the Taputimu road project from Paramount Builders to Silva Construction."
The letter of award has been delivered to Silva Group, he added.
The CPO said he would explain today his reasons for rejecting the SEB recommendation and his decision to give the contract to Silva.
Asked about the contract amount, Ti'alemasunu said Public Works has not provided his office with the contract amount but according to the engineer's estimates, "it's a little over $9 million.
The CPO was responding to our questions from home and said he didn't have the names of the SEB with him..lbut they were all employees of Public Works
Silva built the Coconut Point Road and also the Leone Village Road.
The company was also awarded the Malaloa dock project which had a groundbreaking ceremony last year but is awaiting a permit from the US Army Corps of Engineers.
The Taputimu Vailoa Road is funded by the Federal Highway Administration and has been on the list of road projects for more than a decade. The present road is one of the most pothole-riddled roads In the territory.
The contract award comes four months after a ground breaking ceremony for the road project.